The Unceded Artist Collective: "The People, The Human Beings"
May 13, 2021
Art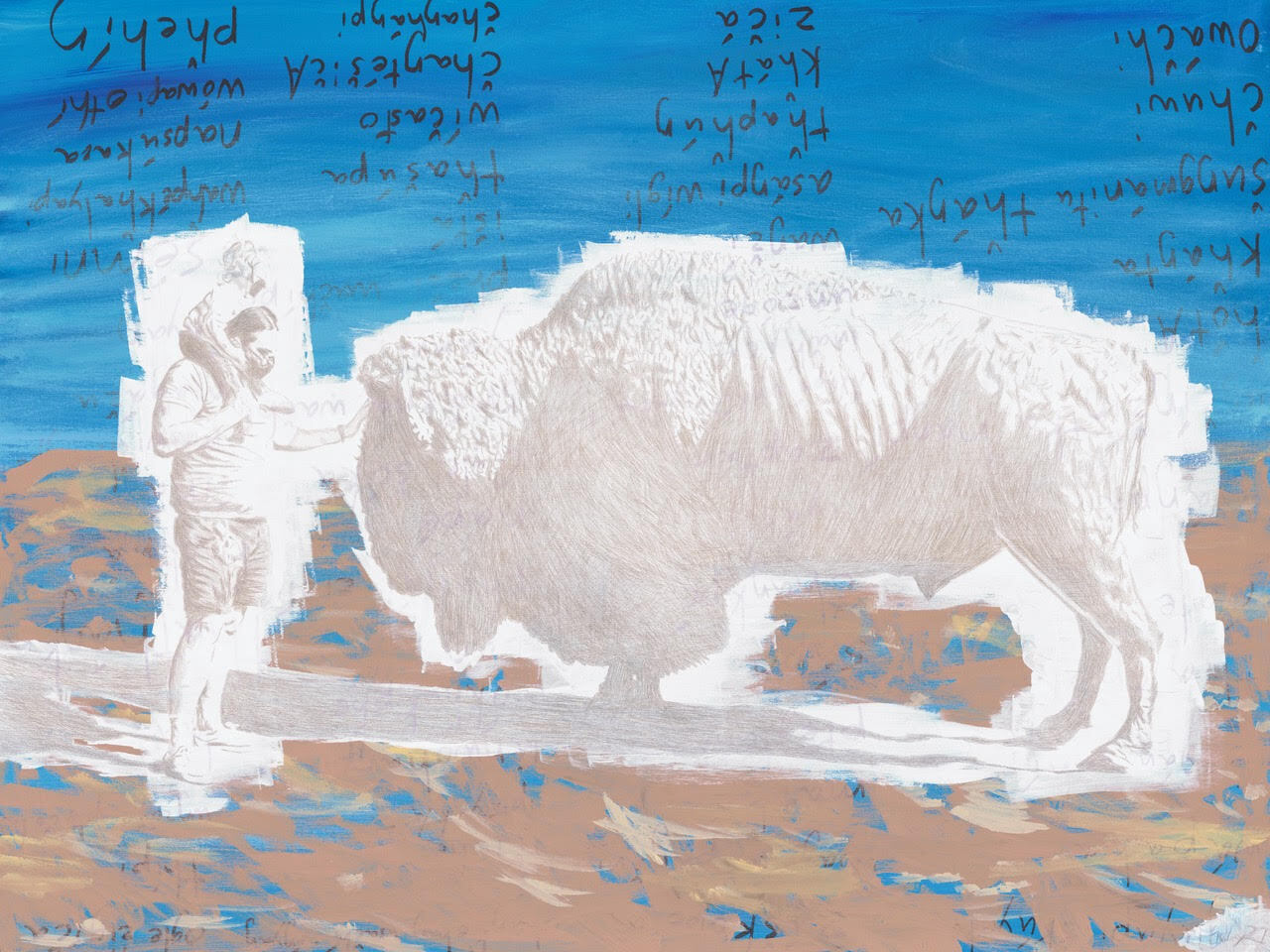 The first show from the Unceded Artist Collective, The People, The Human Beings opens Friday, May 14, at Amplify Arts' Generator Space in Omaha.
Artist Sarah Rowe, a member of the Ponca Tribe of Nebraska, Lakota Nation, said the Collective was unveiled this spring.
"It connects Indigenous creatives around Omaha to one another and to the community at large," Rowe said.
Artist Nathaniel Ruleaux, who is currently located on the unceded land of the Umónhon and the Očhéthi Šakówiŋ in Nebraska, said this show is the launching point of the Unceded Artist Collective.
Ruleaux started the Unceded Artist Collective within the last year.
"About a year ago, while attending a memorial for Zachary Bear Heels, a Native man who was brutally killed by the Omaha Police Department, I met several Native artists and community members who had seen my work up around town," he said. "We talked about how rare it is to find a modern Native artist's work up in Omaha and how the only real representation in town could be found in dark corners of museums. And for the most part, those portrayed 'Indians,' as a mystic people of the past."
Ruleaux said he became focused on making the arts and culture sector in Omaha more equitable. After conversations with other Native and Indigenous members of the city, it became apparent that the city lacked Native representation across the board.
"Native artists lack opportunities and support that white artists found readily available," he said. "The systems of white supremacy that kept Native/Indigenous artists out of galleries and venues around town, also kept artists from seeing each other and connecting."
He started the Unceded Artist Collective with the goal of bringing local Indigenous artists together to collaborate as well as connect them to job and grant opportunities.
The People, The Human Beings was organized with Amplify Arts.

Rowe's work will be featured in the show.

"My work draws from the energy of Heyoka, the sacred clown of the Lakota," Rowe said. "I believe humor and play help form connections across different backgrounds and perspectives, creating a more inviting world."
Rowe said her work is often participatory and performance-based with a call to action. During the pandemic, her process shifted to present a more visual record of a performance titled "Fear Less/More Waste" as a small installation in the gallery.
"The imagery is bold, playful and a bit haunting and otherworldly," she said.
Ruleaux also has work on display. He said his work is an expression of his combined anger at the nation, a love of the people and the land and dreams of what kind of world he wants his child to grow up in.
One piece he will display is titled Lakȟótiya Wóglaka Po, which brings together an image of his child, a bison and himself, with some of the first words of the Lakota language they learned together.
"I'm a member of the Oglala Lakota Nation," he said. "I often use bison as a symbol of the Lakota spirit, the power of our endangered natural world and a righteous, powerful force for what America should be. I regularly combine other traditional Native images, like the ones used by my grandfather Donald D. Ruleaux, with images of current issues facing Indigenous peoples and the world today."
Rowe said she believes that a show featuring Native and Indigenous art is important.
"Ultimately, I believe in the importance of sharing Indigenous perspectives in the contemporary world and amplifying voices of invisible populations," she said. "I am thrilled to collaborate in new ways within my community and watch how that community expands."
Ruleaux also believes in the importance of this kind of show.
"While forces of colonial white supremacy work every day to continue the genocide and irradiation of those Indigenous to this land, it cannot be overstated how important an exhibition and celebration of existence like our show is," Ruleaux said.
He said whether the artist desires it to be or not, Indigenous art is inherently political as a result of the genocide that has been and is being committed by the U.S. Government against Indigenous and Native Peoples.
"With this in mind, it is important to share the work of local Indigenous artists and to take up space to fight against the white supremacist lie that is our extinction," Ruleaux said. "When you come to this show, you will see beautiful and powerful work by people in your city, human beings whose talent connects past and present, connects cultures and customs. This show is an important recognition that we are still here."
The People, The Human Beings features artwork from Ruleaux, Rowe and Steve Tamayo. Due to public health concerns, viewings will be by appointment only and limited to groups of no more than five. See more information here. Register here or email peter@amplifyarts.org to schedule a time. Face masks are required.
The Generator Space by Amplify Arts is located at 1804 Vinton Street, Omaha, Nebraska, 68108.