Nebraska's first Freight Farm combines tech and farming
Sep 29, 2021
Civics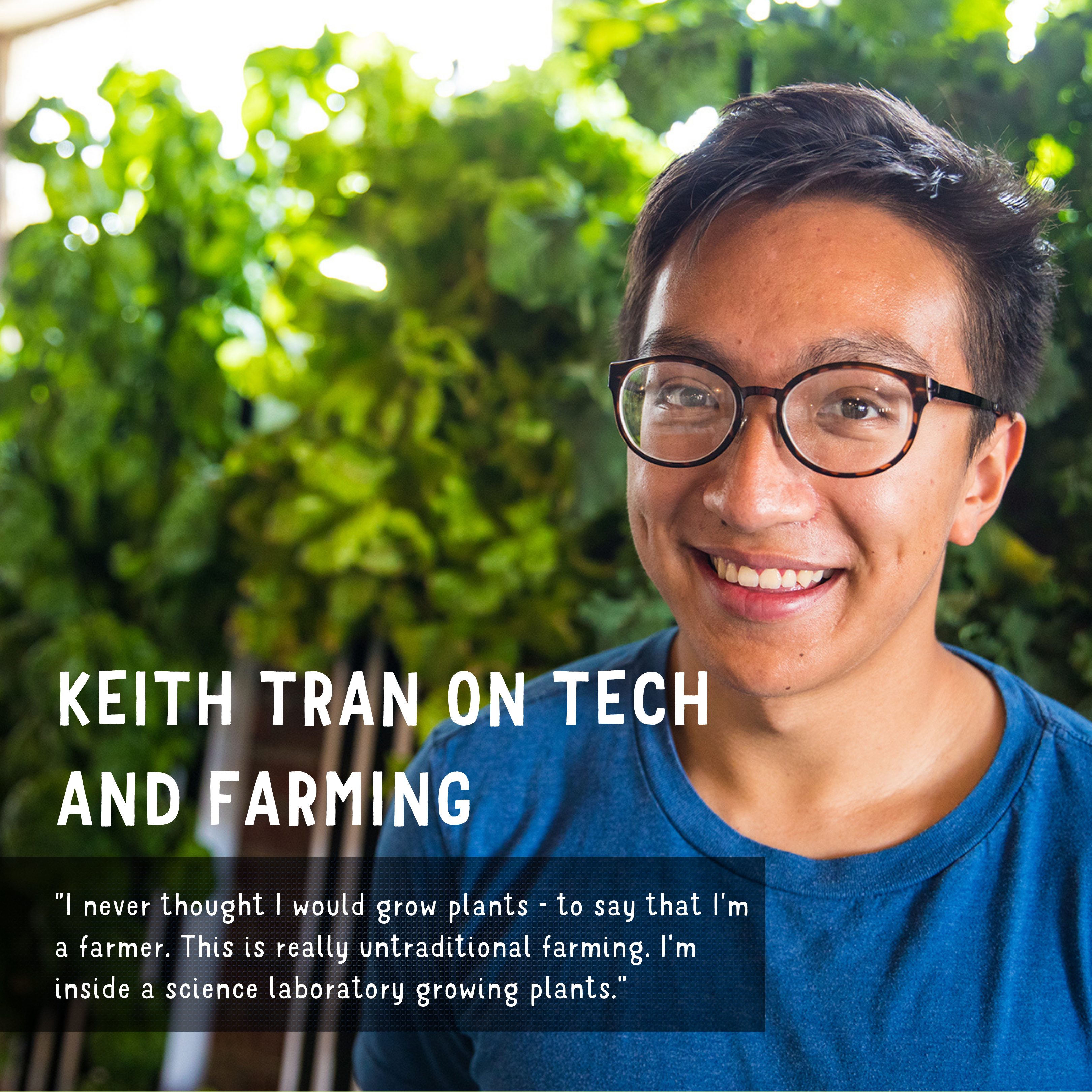 On the outside, it's a simple shipping container - out of place, in the middle of The Bay's parking lot. Inside, growth takes place. Seeds become food on the table for the people of Lincoln, Nebraska. In The Greenery, the walls are covered in vertically growing plants. It smells of a vegetable garden just after it rains, even in the middle of December.
Keith Tran is a computer science major at the University of Nebraska-Lincoln and one of the volunteers at Beyond School Bells (BSB), which helped bring The Bay's Freight Farm Greenery to life. Freight Farms is the manufacturer of The Greenery S - a hydroponic shipping container farm. Freight Farms sells its $100k container farms across the country. BSB's goal in using the farm is to educate communities on farming practices, specifically hydroponic farming, so they can bring the harvest back home to their families.

Hydroponic farming provides the opportunity to grow fresh produce year round, including during the winter months. Due to this controlled environment, the plants are able to thrive with help from the systems that were already put into place during its development, like water, humidity, air, light, etc. This farm uses less water than traditional farming due to its drip irrigation system. The water used, about 2.5 gallons, is recycled each day and switched out monthly.
This year, BSB and Freight Farms teamed up to bring this innovative farming technique for the first time to Nebraska. Jeff Cole, Network Lead for BSB, coordinates this partnership between BSB, Freight Farms and The Bay.
"We realized this is a really good part of the solution to inequities in our food system, that depend upon food chains that may originate halfway around the world," Cole said. "If we can shrink that to the neighborhood level, giving people control over their food choices, then I think we'll be able to help address some of the inequities that are inherent in our system."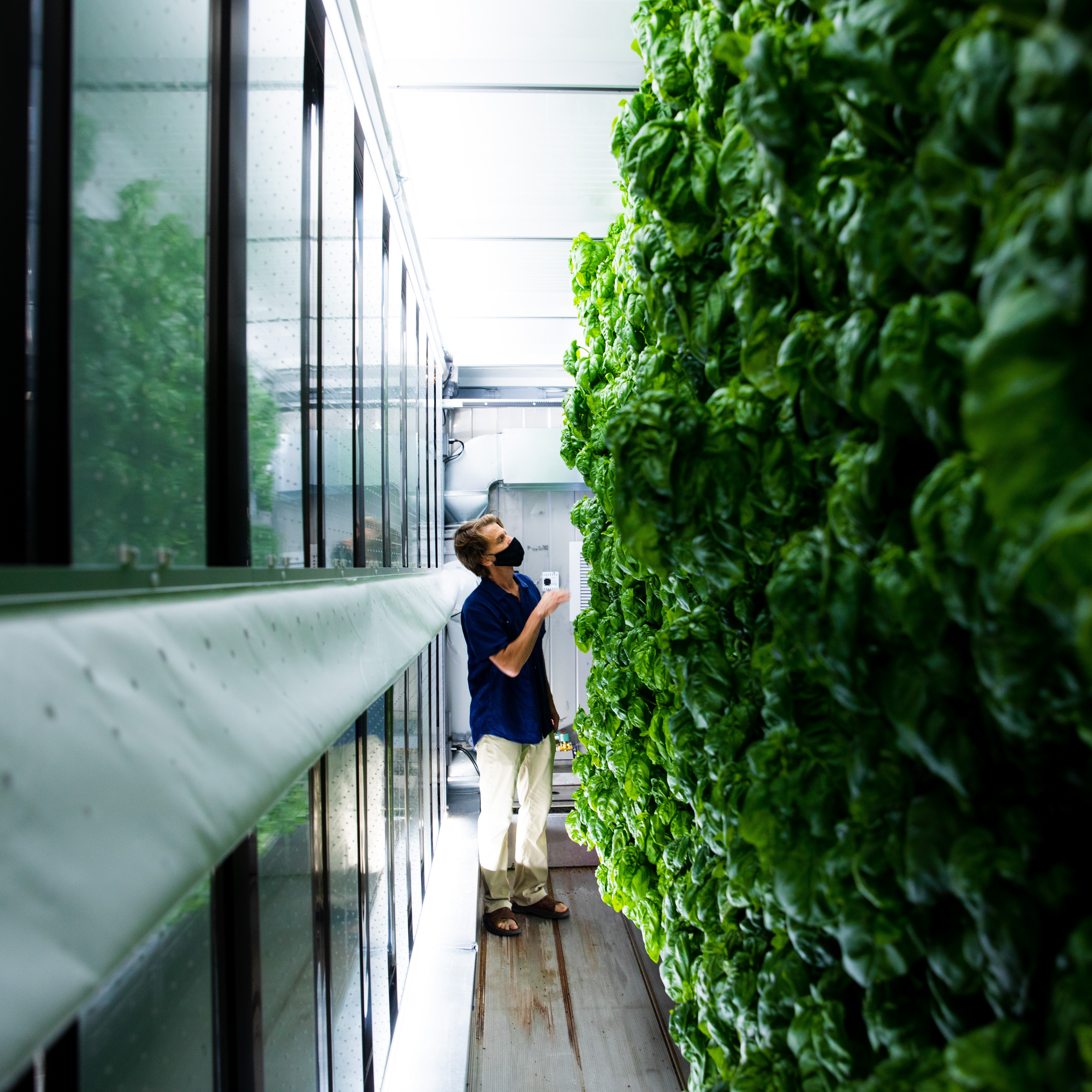 One thing that prevented hydroponic farming from being more accessible were the expensive LED lights needed in the greenery, Tran shared. Technology has only recently figured out how to make it cheaper.
"It opened up the door for people to explore hydroponic farming,'' Tran said. "We're currently at an era right now where we're going to start to see more of that in the United States, but it's really cool to see Lincoln, Nebraska, being a part of that community that's growing."
Tran got involved in the project in the summer of 2021. At first, he and the team thought the click of a button would kickstart all the farming. By the end of the summer, they had clocked tens of hours debugging and solving different technological calibrations just to get the greenery up and running for this fall.
"When I got involved, it was mostly figuring out the logistics of the sensors that run the whole farm. Then, [I thought] abstractly about what kind of system we would need to have to actually have the whole process work well, Tran said. "Do we need to have gloves? What do we need to turn on and off when we get to the site? How do we transplant plants into the ceiling walls? How do we harvest? What's the pipeline stream of that?"
The project was collaborative from the start. Students on the team came from backgrounds outside of just technology and computer science. Tran had help from other UNL students, like Alexus Hansen, a senior biological sciences student. Hansen was able to provide more insight into environmental processes, according to Tran, which was critical to this type of farming which combines technology and the environment.
"It was cool to work alongside her because sometimes we would have a problem with the plants, where one plant might have mold. I don't know what's going on. And she'd be like, Oh, that's because it's too humid and they're not close enough to the light. Oh, okay, I know how to fix that. We can adjust some sensors here to make the light stronger, or we can get a dehumidifier to reduce the humidity down. So we complemented [each other] really well," Tran said.

Currently the Greenery is harvested about every 4-6 weeks and is said to produce the equivalent of a 2.5-acre farm. So far, with the help of Independence Academy – a Lincoln Public Schools (LPS) program for students with disabilities that provides relevant educational, life, social, and vocational/career experiences – they have distributed basil, cilantro, lettuce and radishes with community members and supplied The Lincoln Food Bank with fresh produce for their Lincoln Fresh Truck.
Cole hopes to partner with LPS's nutrition services, so produce can be sold to LPS and distributed in school lunches for kids across the city. If that doesn't pan out, he sees an opportunity for young people to get into the fold through sales and distribution using a farmer's market model, with them selling the produce through an after school program.
"Right now its importance is really more in showing what could be possible for people in the future to have more local control over what they're growing so that they can alter it to fit their own diets or lifestyles choices. And again, have a much less direct climate impact," Cole said.