On the morning of July 9, 58 girls from the ages of 13 to 16 years old began their journey through a week full of intense instrument instruction, workshops, practicing with newly formed bands, and writing their own music. Some seasoned veterans knew what was in store, but most campers looked awestruck as they were welcomed into what was surely one of the more formative weeks of their summers.
Like many of the campers that entered the Holland Center for Omaha Girls Rock's (OGR) second session, I wasn't sure what to expect from the camp, which emphasizes empowering girls through music education. The amount of support I felt from just being there for half a day, was incredible. Walking through the transformed hallways of Omaha's most notable performing arts center, I was surrounded by posters of iconic women, inspirational quotes, and a giant "I AM FEARLESS" poster greeting me as I observed girls writing notes to their friends on huge the shoutout wall, sectioning off half of the hallway. Messages like, "We love you Maria!" and "Thank you volunteers," summed up the supporting and accepting environment of the entirecamp.
OGR's mission is to empower the women and young girls in the area to own their artistry and to create a more inclusive community through music. The camp environment is set up to allow them to bring out their true, creative selves, whoever they may be. There are two different camps during the summer; one for girls ages 10 to 12 and one for girls ages 13 to 16.
Throughout the week, local artists perform for and work closely with campers to share their experiences. They also work closely with volunteers from the community, who teach campers about future possibilities through music. At the end of the week, participants perform in the OGR showcase in front of family and friends to show off their progress throughout the camp. Along the way, camp counselors draw on inspiration from popular and influential female artists in order to empower the next Stevie Nicks, Patti Smith, or Siouxsie Sioux to realize her own potential.
"We are always positively encouraging them and always reaffirming that who they are right now and how they identify themselves is exactly how they should be," says Melissa Wurth, the Executive Director of Omaha Girls Rock. Originally a teacher, Wurth decided to fully dedicate her time to OGR in 2014.
OGR was founded by Stefanie Drootin-Senseney, a seasoned bassist and vocalist, who has played in bands such as The Good Life, Big Harp, and Umm. Originally from Los Angeles, she spent some time in Omaha in the mid-00's amid a tight community of musicians and other art enthusiasts. She saw there were other similar camps across America, and saw the need for one in Omaha. So she got together a bunch of other friends, musicians and artists and, in 2011, started Omaha Girls Rock from her L.A. home, with Wurth being involved since the beginning. Though they focused on other topics as well, music was always the central theme of the camp.
"The reason music was originally the nucleus of this organization is that within music, there's a disparity of women in specific roles,¨ Wurth says. ¨So using that as a metaphor for the other sectors of the community is one way that we use music. The other way, is that there's so much creative expression within music, that it's just a powerful way for somebody to identify themselves, as well as express themselves."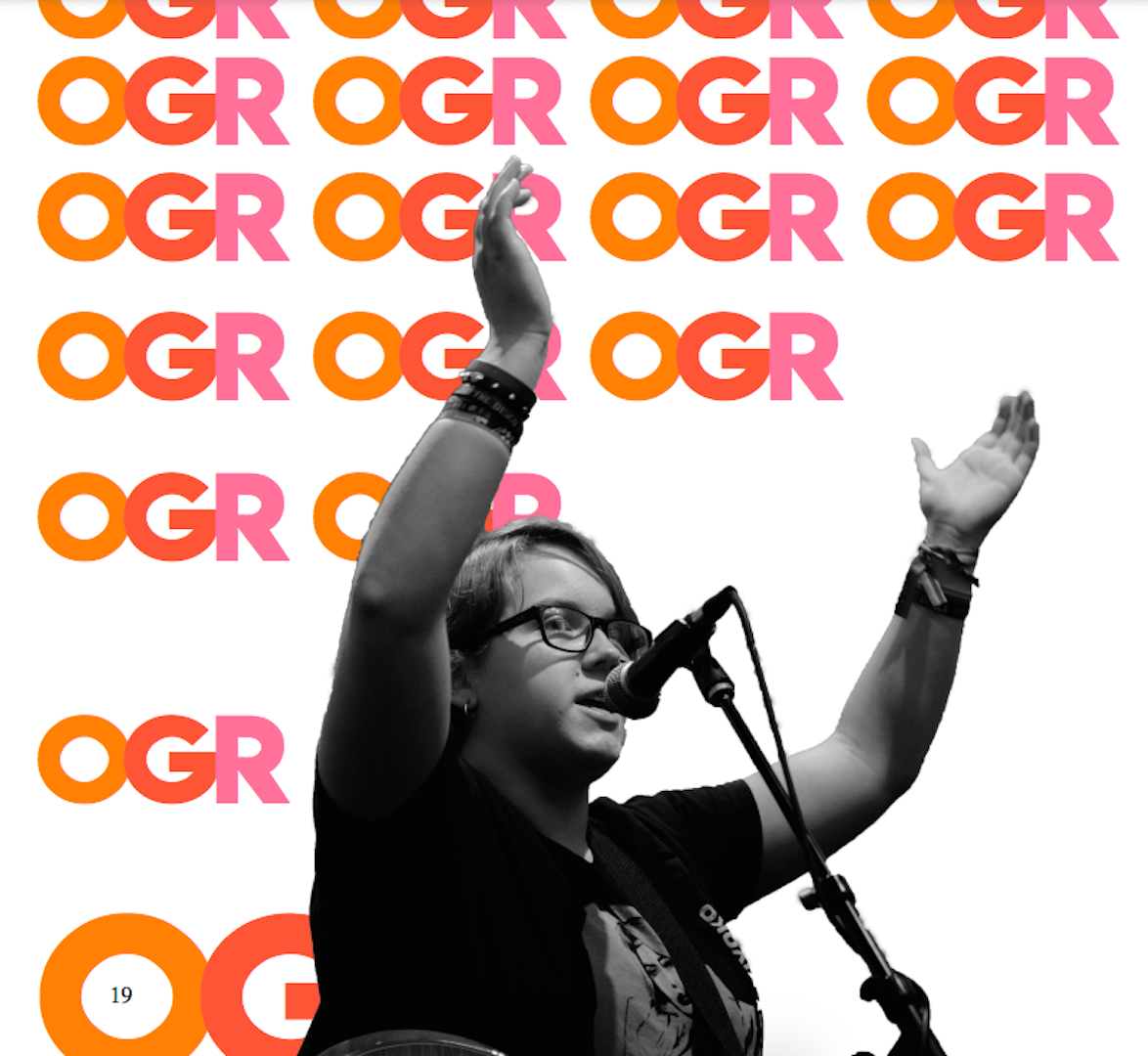 During Day Four of the July 9-13 session, Wurth discussed the development that happens within each camper throughout the week. Their message of affirmation in the campers' personalities and their sense of self is empowerment enough to change quiet, timid girls into the rock stars that own the stage in front of over 300 people by the end of the camp.
"And when you see them come off the stage, the looks on their faces say it enough," Wurth says. Throughout the course of the week, campers operate in an environment built for creativity. Mornings start with "circle time," where they talk about what they want to accomplish that day. The campers also spend time learning about influential women making a difference in their own community, and create projects — posters, artwork, and more — about them. The campers are grouped into bands, where they write their own songs together, decide what roles they will each play, decide the look and the name of their bands and have the freedom to make all of the decisions themselves. By the end of the week, those bands cap an immersive process by showcasing not only their original songs but a ton of growth.
"The main focus is the process of camp," Wurth says. "Through the camper's experience of learning an instrument, creating a song, forming that band and taking part in all these different workshops and projects, it's really the process of finding their identity."
The sense of growth is prevalent among all campers, from those who have attended OGR for years to the girls who are attending for the first time. Many of the campers remarked they had never even imagined that one day they would perform in front of a cheering crowd, until they went to camp.
"When I first started camp, I was super shy," says 15-year-old camper Kendall. "Then I got up on stage and realized I liked it, and so I tried out for show choir and I made it. So it really helped me get out there."
Hannah, 14, is a returning camper at Omaha Girls Rock and says she loves the environment camp creates, teaching empowerment through music. She puts it simply.
"I go because I can have fun here," Hannah says.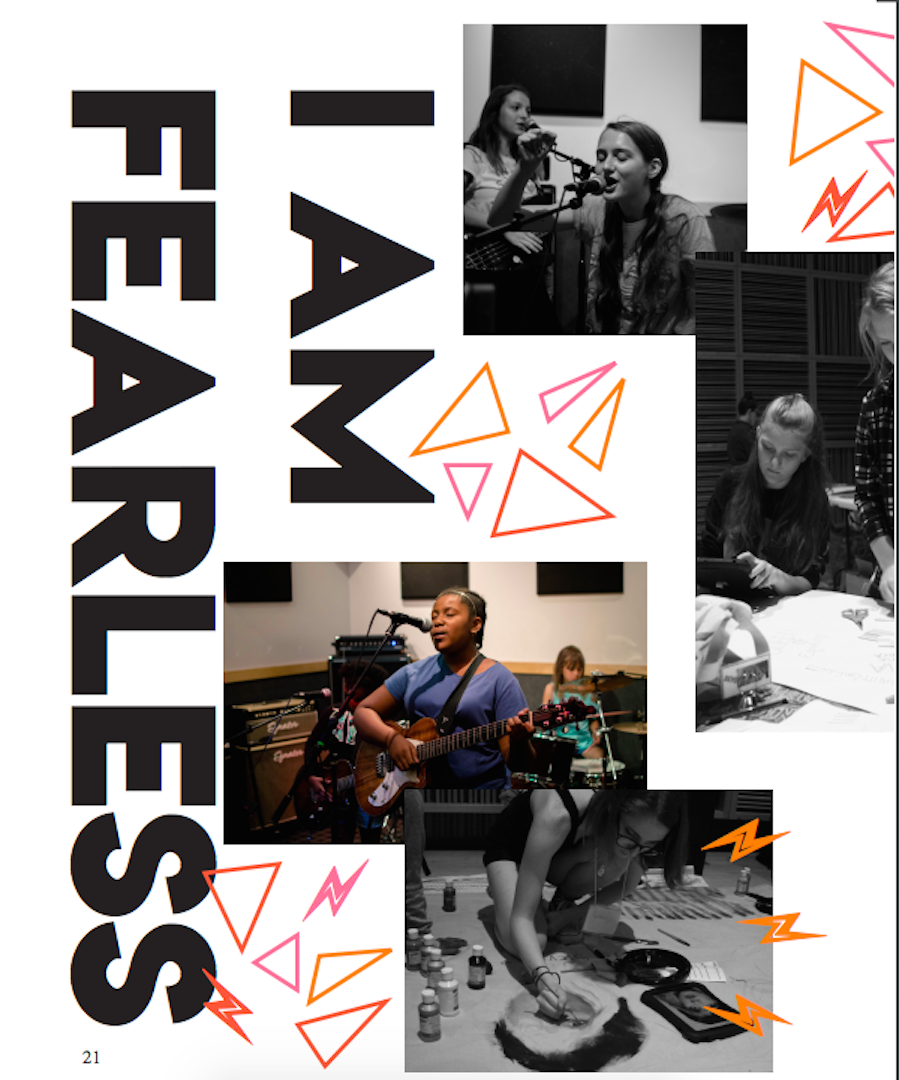 Towards the middle of the day, I stumbled upon the groups of campers, each working on their projects for the week. They provide some real-world examples of influential women, with the groups each picking their own topics. Some researched female activists such as Kasha Nabagesera and her work for LGBTQ+ rights in Uganda, and other groups studied the fashion styles of iconic female musicians over time.
These projects, while not solely based in music, were displayed at their final show for audience members to see. The extra activities that the campers do are an integral part in the process as they learn more about themselves throughout the week.
OGR also works on bringing in local speakers, like community advocate Precious Mckesson, to talk about their experiences and how they got to where they are today. Mckesson is the president of the North Omaha Neighborhood Alliance and talked about getting involved in their community, serving as a real-life example of the change they can make for themselves. Speakers like McKesson bring another level of education into the campers' experiences.
"I do this because it teaches me something my parents can't," says Lilly, age 15. "It helps you learn really good qualities that you can take into the future."
Wurth discussed the need to build up the younger generation of women in our community because, even with how far women have come in the music industry, there is still a lot of work to be done.
"Even still in Omaha, in 2018, there's still a disparity of representation of women in music, and I think that can be said to be true for Lincoln as well and other surrounding communities," Wurth says.
The impact of OGR is already apparent in the community. Wurth noted that girls who were former long-time campers are coming back to help out as junior mentors. After they aged out of being a camper, they choose to pay that forward to the next generation.
"They're realizing the necessity for service and giving back to their community, especially an organization that they have been so strongly involved with," Wurth says. "And I think that's pretty impactful.¨